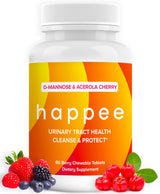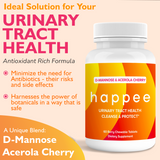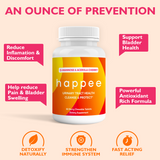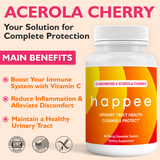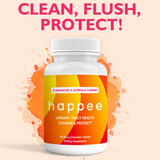 Chewable UTI Prevention by Happee, Berry Flavor
This UTI prevention supplement flushes UTI-causing bacteria from your urinary tract before trouble starts. Happee's proprietary formula with D-mannose and antioxidant-rich acerola cherry offers antibiotic-free protection. 
60 delicious berry-flavored chewable tablets lasts 1 month with daily use or up to 6 months when used as needed (after certain activities or at the first hint of discomfort). 
Designed for women, by women, but also safe for men and children.
Vegan. Gluten Free. No artificial flavors or colors.
Health Benefits
Don't worry, pee happy with Happee! Packed with 500mg of D-mannose and 150mg of Acerola Cherry Powder, our doctor-formulated chewable tablets support optimal urinary tract health.
Happee's active ingredient helps flush away UTI-causing bacteria from your urinary tract before they cause trouble.
Acerola cherry helps strengthen membranes and reduct bladder swelling.
No mixing, scooping or water needed - just delightful, chewable, berry-flavored tablets in each jar!
How It Works
Take Happee when you are at risk of developing a UTI. If you know what triggers your UTIs (sex, travel, exercise, holding your pee) you should take Happee after those activities. If you get UTIs randomly, you should take Happee every day to stay UTI-free.

You can take Happee any time, with or without food and water. However, hydration is key to a healthy urinary tract, so drink plenty of water throughout the day.
You've tried cranberry — now try something that works
You're not alone. We're helping thousands of people of all ages
stay healthy with our proactive urinary tract products.
Crunchy and yummy
Very happee with the taste and texture!
Happee makes me Happy
It works and tastes good!
Best product ever!
I absolutely love Happee! I would recommend this product to anyone! Great taste, good on the go, and even better results. It has been only a month and I have seen a huge change in my urinary health!
Such a great tasting effective product !
I am delighted with my results I am Happy with Happee! They do just what they are supposed to do what a sense of confidence and relief I have'
Life changing
On the advice of a urologist to help prevent recurring UTI's I decided to take D-mannose. These have a good amount of active ingredient in each pill and are easy to take. I believe they have Theses
Stay Healthy, Stay Happee
The purpose of Happee is to prevent UTIs, minimizing the need for antibiotics and their risks and side effects. Your body will thank you!
Shop Now